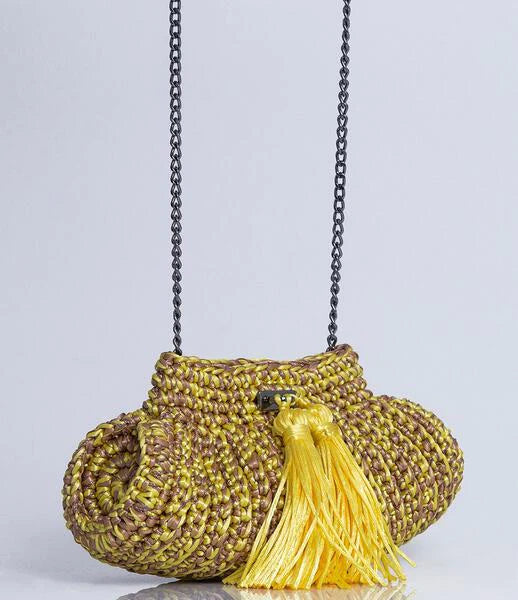 Cantiga hand loop, is the revisited version of the classic cantiga shape. Crochet clutch, handmade with satin threads. It has rounded sides, which give personality to its design. The new version, with a removable tubular hand strap, has pendants for pompoms on the top, comes with a chain strap, magnet closure on the inside and logo on the inside. Signature Catarina Mina details are displayed on this stylish bag.
Made by artisan fishermen on the west coast of Ceará, the "Uru" is a straw basket, very used by fishermen, that turned into a bag and won special crochet finishes.
Composition:
Product made from natural raw material (straw), which can lead to variations in shade. Straw plaited into metal chain straps.
Crochet cap - 100% Cotton | 100% Natural Fiber Cotton: Straw
Country of Manufacture:
Brazil
Size and Fit:
Specifications: 8 cm x 26 cm x 13 cm
Hand Strap: 30 cm
Shoulder Strap: 110 cm
Locations
VISIT US
.
Old San Juan
258 Calle de San Justo, San Juan, 00901
Mon - Sat 9:30am - 6:00pm
Sun 11:00am - 6:00pm
Tel: +1 (646) 706-2502
.
Shelter Island
Shelter 183 North Ferry Rd. Shelter Island, New York 11965
Mon - Sun 10:00am -5:00pm
Tel: +1(516) 413-4136
.
The St. Regis Bahia Beach Resort
Iridium Spa 
Every Day 10:00 am - 5:00 pm
.
Don Rafa Boutique Hotel
601 Av. Miramar San Juan, PR 00907 
Tel: +1(787) 303-3350
.
ABOUT US