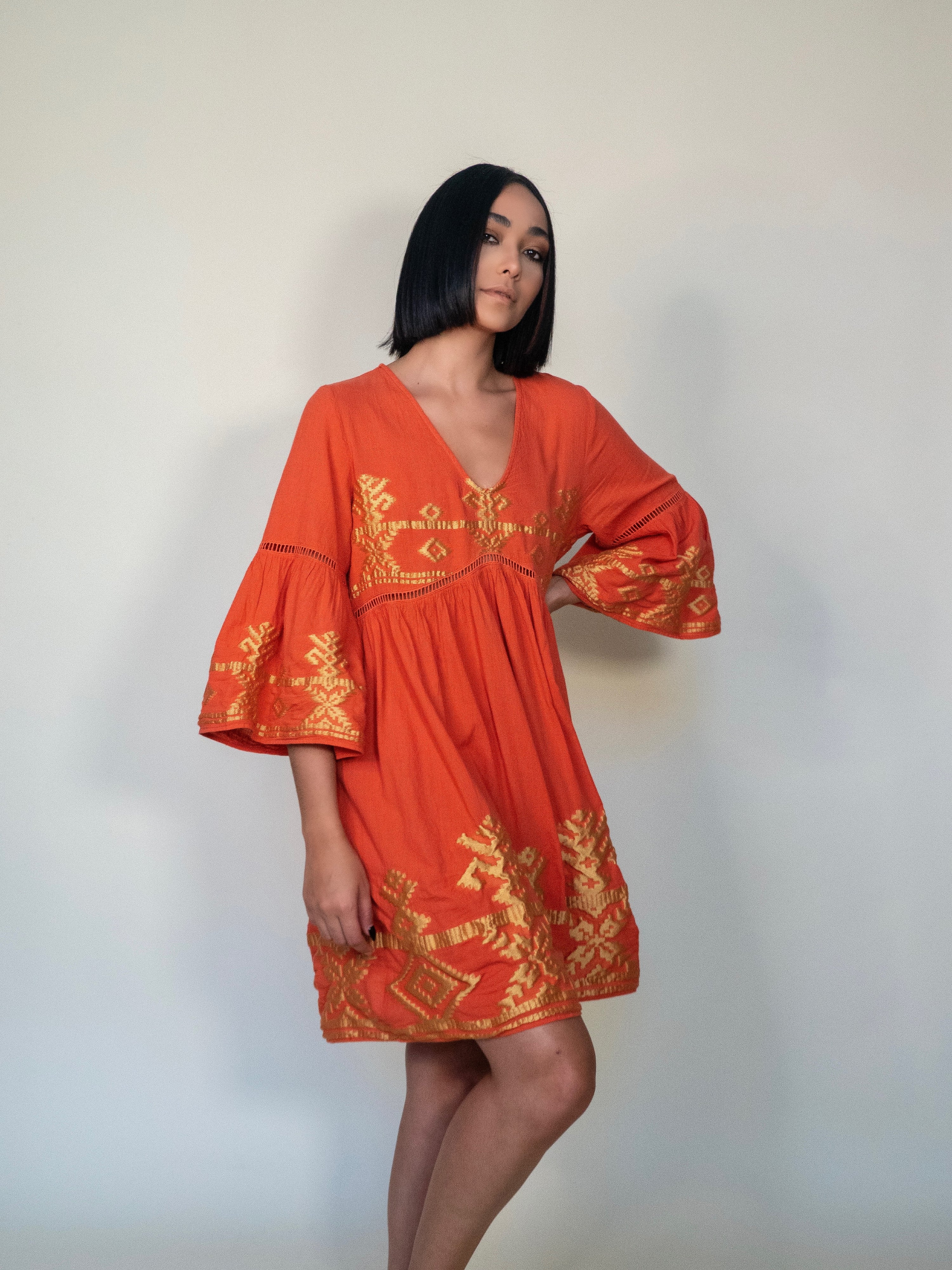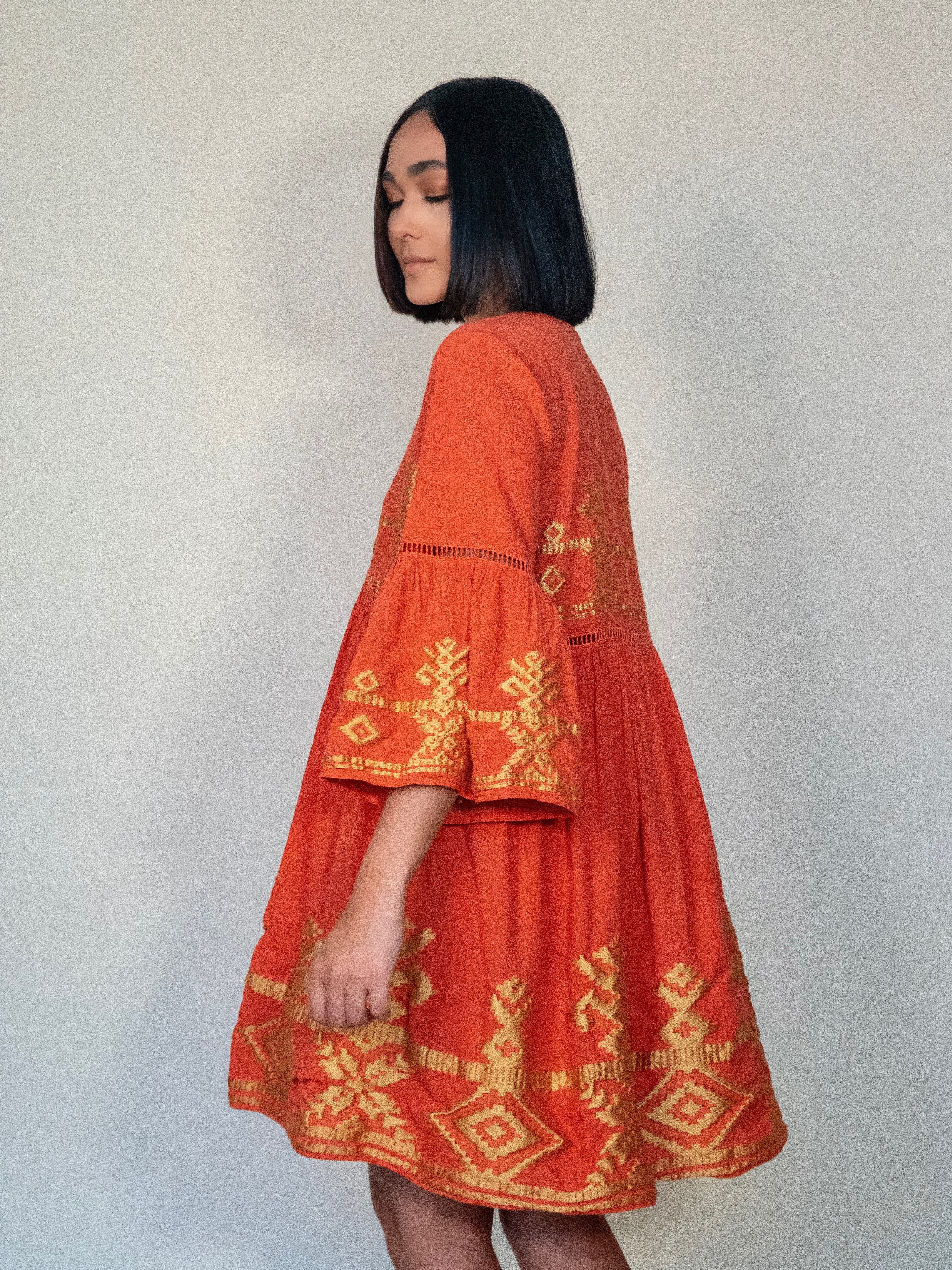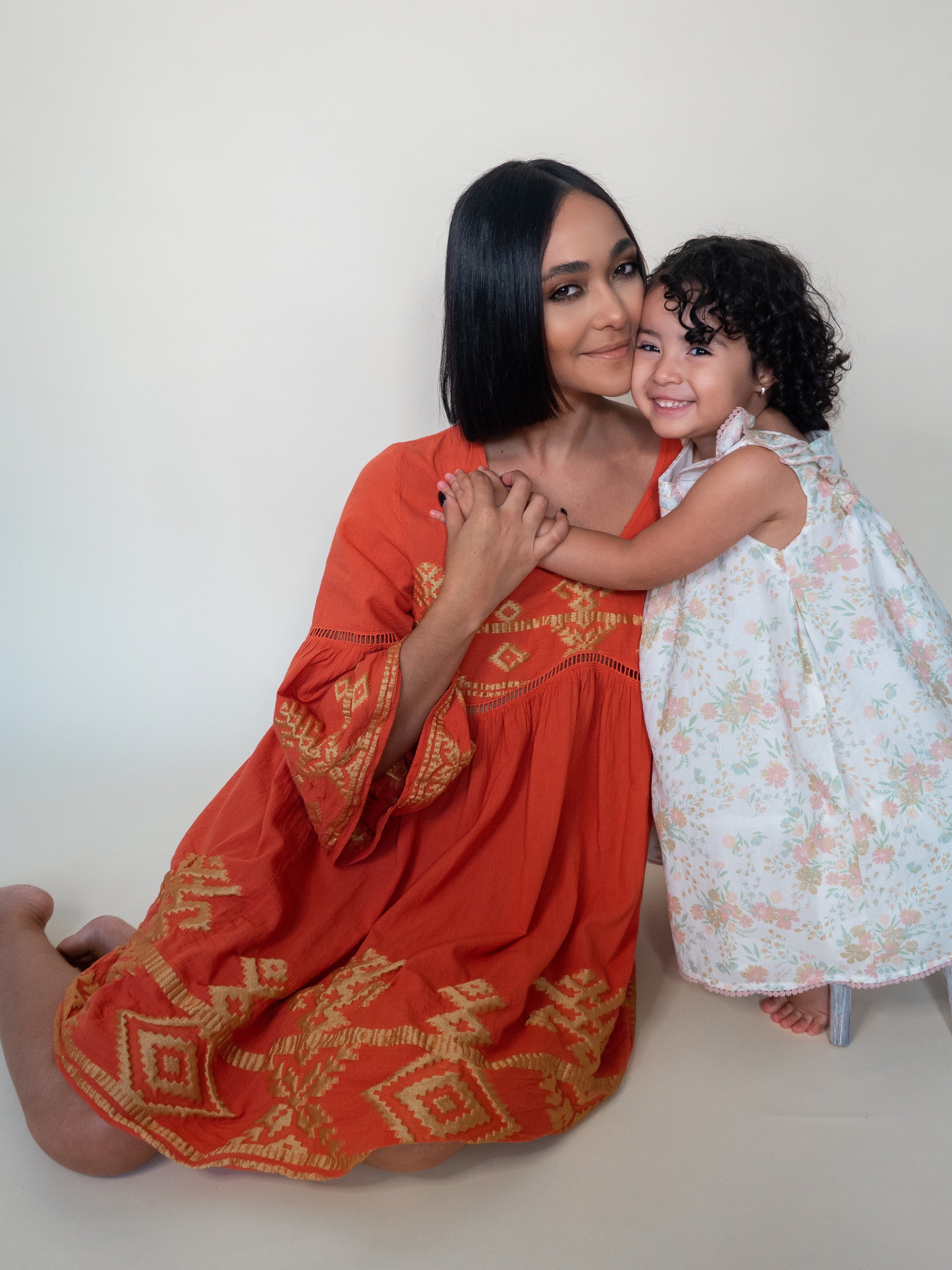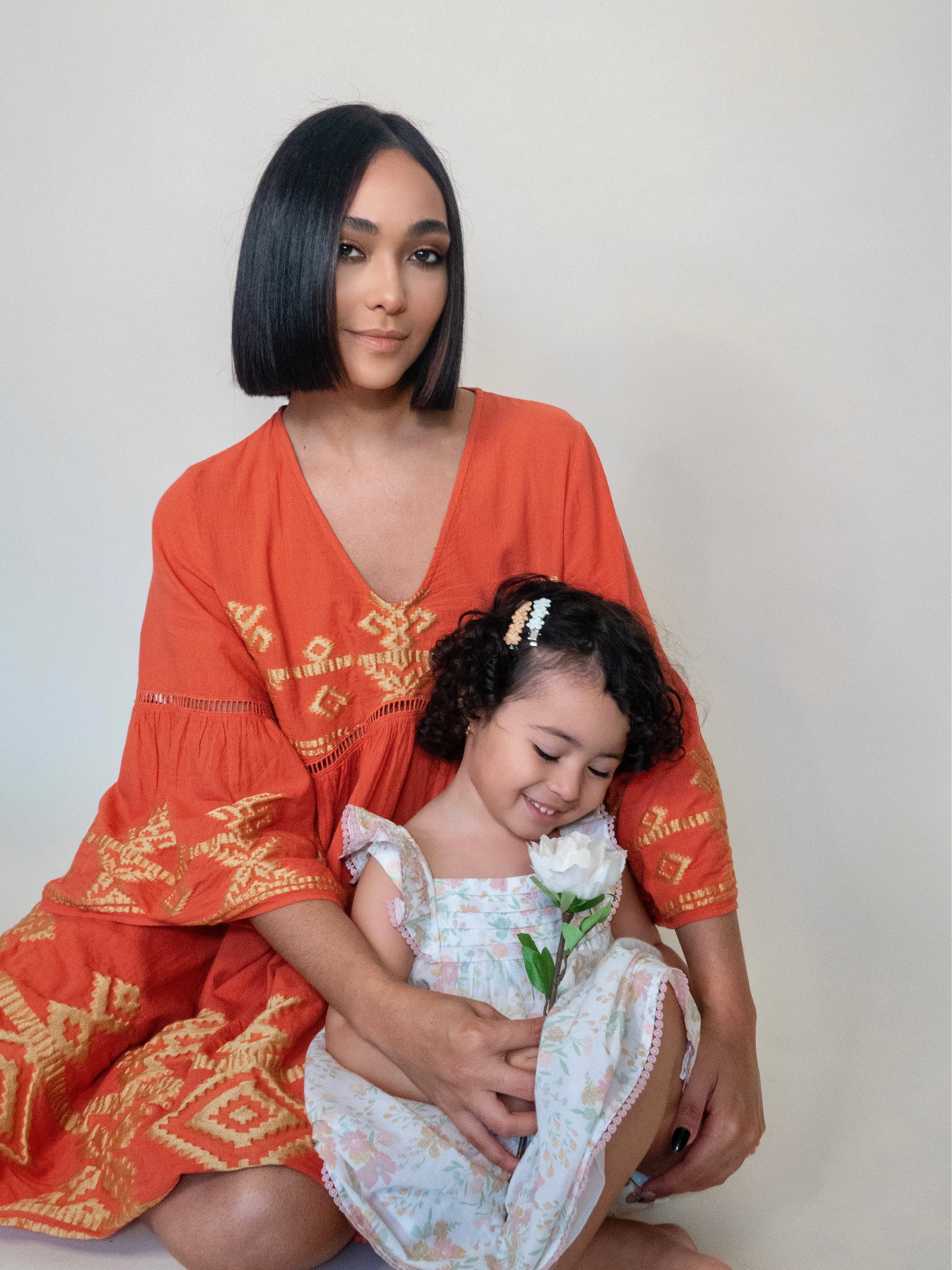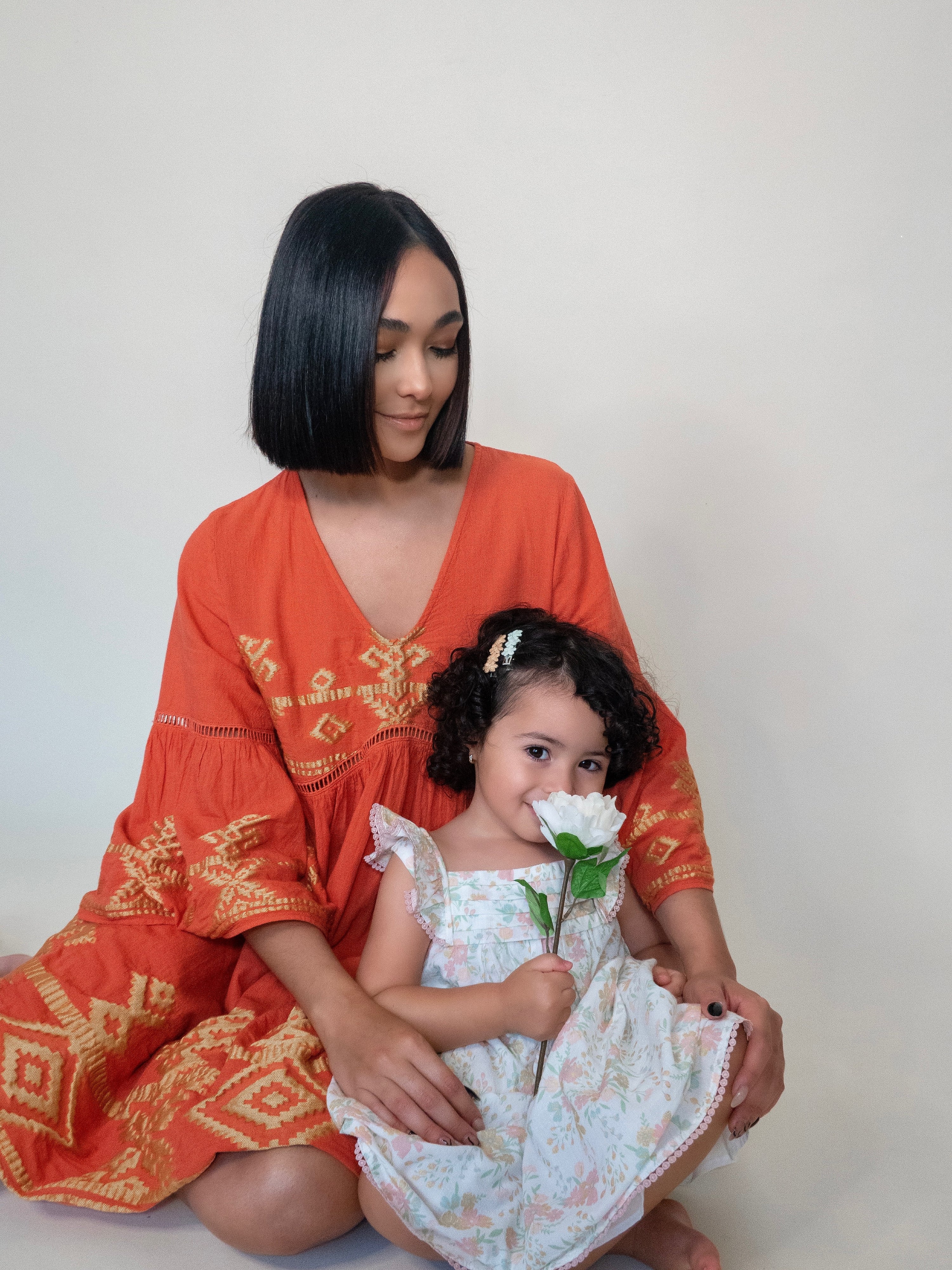 Thalia Short Dress - Orange
Introducing the Thalia Short Dress, a unique fusion of comfort, luxury, and vibrant style. This stunning piece, crafted in vibrant orange and adorned with gold-colored embroidery, is made from 100% Bambaki cotton, ensuring supreme comfort and style for all sizes.
Our Thalia Short Dress is an embodiment of chic simplicity and elegant design. The radiant orange hue adds a burst of color and vitality to your wardrobe, making it a perfect choice for any occasion where you aim to stand out.
The exquisite gold-colored embroidery beautifully contrasts with the orange, adding a layer of luxury and sophistication to the dress. This intricate detailing elevates the overall design and makes the Thalia Short Dress a true statement piece.
Made from 100% Bambaki cotton, the dress promises not only style but also comfort. This high-quality fabric is known for its breathability, softness, and durability, ensuring a comfortable fit for any body type.
As a one-size-fits-all piece, the Thalia Short Dress embraces all body types and sizes, making it a versatile and inclusive addition to any wardrobe.
Elevate your style with our Thalia Short Dress - a harmonious blend of comfort, vibrant color, and luxurious detailing.
Thalia Short Dress - Orange
Locations
VISIT US
.
Old San Juan
258 Calle de San Justo, San Juan, 00901
Mon - Sat 9:30am - 6:00pm
Sun 11:00am - 6:00pm
Tel: +1 (646) 706-2502
.
Shelter Island
Shelter 183 North Ferry Rd. Shelter Island, New York 11965
Mon - Sun 10:00am -5:00pm
Tel: +1(516) 413-4136
.
The St. Regis Bahia Beach Resort
Iridium Spa 
Every Day 10:00 am - 5:00 pm
.
Don Rafa Boutique Hotel
601 Av. Miramar San Juan, PR 00907 
Tel: +1(787) 303-3350
.
ABOUT US